Friday, January 7, 2011
Nicole by OPI recently released four polishes exclusive to Walmart. There isn't any real theme between these colors, they all feature the new
Perfect Stroke brush
once again. More details under each polish...
Never Give Up- My camera could not capture how pretty this polish is! Princess pink (what I like to call it) with holo glitter thrown in. It's not as red as it appears here and way prettier in real life. Easy application, 3 coats.
He's A Keeper- Alright, I know I've said I really dislike reds but oh my goodness is this one lovely. Bright clean red, and the application was ah-may-zing. It basically applied itself. 2 coats.
Got Style?- I wasn't expecting to like this polish from the bottle but after I put it on I really like it, especially for the fall and winter. It's a hard to describe color: kinda red, kinda brown, kinda pink. 2 coats.
Count on Me- I knew from the bottle that it wouldn't matter how many coats I piled on, this was a sheer. This is the only polish from this collection that I didn't love, mainly because I really don't ever layer my polish. Shown here is 3 coats. It's an iridescent blue-purple-silver.
So tell me, have you spotted these at your walmart and added any to your stash?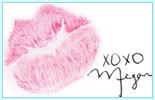 *Products in this post provided by OPI, this does not effect my opinion which is solely mine.