Saturday, January 29, 2011
12:14 PM |
Posted by Dainty Darling Digits |
|
Edit Post
What does a girl like me do with no plans on a Friday night? Well, pull out the makeup of course!
I mentioned that I've been running seriously low on inspiration lately. I keep a folder of inspiration/looks I want to recreate on my computer and the first one that caught my eye tonight was from MAC's Cult of Cherry. Recently the lovely Lily of
Beauty's Bad Habit
tried her hand at recreating this promo, seeing her post made me want to try a hand at this and other promos and face charts from MAC. I'll admit, I've tried a to recreate a couple before with awful results. How do you think I did?
This is about as close as I come to that sultry model look, ha!
The one thing I really noticed about the makeup in this photo is the shape flows with her eyebrows (if that makes sense). Because I couldn't find my glue stick to cover that part of my brows so yes, I badly photoshopped them ;) I hope you don't mind!
With flash and 0 photoshopping!
And a bonus webcam pic!
One of the reasons I really wanted to try this face chart is that it breaks a couple standard beauty "rules"- don't draw attention to two parts of the face and don't bring your eyeshadow straight up to your eyebrows.
Products used:
Manly 188 palette- all eyeshadow
Maybelline the Falsies mascara
MAC Dark Diversion fluidline- as my lipstick!
Avon Cherry Liqueur glazewear- over lipstick
Some random bronzer that is in my bathroom I'm too lazy to look at- contouring
So, what do you guys think? Would you like to see more posts like this? What is your favorite MAC promo?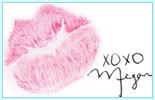 Labels:
MAC
,
makeup
,
manly 120
,
recreation
|
0 comments