Wednesday, February 17, 2010
7:30 PM |
Posted by Dainty Darling Digits |
|
Edit Post
This is something a little different. I wrote this review a couple months back for a community on Livejournal but I figured others might be interested in reading since there aren't many reviews on this company.
If you aren't familiar with the brand,
Lime Crime
was started by
blogger Doe Deere aka Xenia
sometime in the last couple of years. There has been a lot of controversy with her in general and with her company. I'm not going to go into much further details here (a simple google search will turn up a lot) but because I mention it- there are a lot of claims that she repackages loose eye shadow straight from the package and charges a ridiculous price for a minuscule amount. She also likes to threaten bloggers to take down reviews on her products.
Now I will start by saying I really don't like Xenia, I can't believe I parted with my money for her product. However, I've yet to see a review that didn't seem out to dislike these from the start so I'm going to try and forget where these came from for the most part. I'm going to compare these to MAC a bit because there they are probably the best known all around.
Shipping:
I ordered from Lime Crime Tuesday night and it was waiting for me Friday morning. Shipping was actually a flat $5 which is nice when it's usually so jacked up. The previous review I had read (which I cannot locate ATM- let me know if it was yours) stated the package came with the lipsticks bouncing around. Since then they seem to have added some festive star tissue paper. Basic cardboard box packaging. Some small companies will personalize your order form with a little thank you but since I'm sure she herself never touched any of the process I wasn't expecting even a forged thank you. Not a big deal at all.

Packaging and appearance:
If you haven't seen it, think bright pink and sparkling unicorns. Seeing it in person I still can't decide if I like it or it's the gaudiest thing ever. Personally I don't give a crap if my lipstick tube is classy or not. The tube is the same shape but a little bigger than a MAC lipstick. I must say the packaging is a plus compared to most small makeup companies who don't put any effort into packaging (can't say I blame them, must be expensive).
Obviously the lipstick formula is not original, it is made by a lab and we all know Xenia isn't in there mixing chemicals (which she likes to pretend she is). I don't see how this is a con to the product as lipstick is a pretty standard formula. From what I understood what was meant to be original here was not the formula but the colors and coverage. It smells similar to MAC and a lot of other lipsticks- light vanilla scent. She probably did use the same scent note on purpose but really what should it smell like otherwise? Roses? Crayon? Chicken? I can't think of any other lipstick that smelled good and wasn't vanilla. But I may also be partial to vanilla myself.
Application and wear:
Her advertising says tube to lips color in one stroke so I tested this. It actually covers pretty well in one coat and I have pretty pigmented lips. But who applies lipstick in a single stroke? That slogan is kinda stupid. Maybe I just have annoying lips. They can still be easily blotted down to a lighter coverage. Do I think these are any more pigmented and cover better than
any other
brand? No.
From everything I had read I expected these to be thick and difficult to apply like a cheap halloween lipstick, something I wanted off my lips immediately. The texture going on feels a lot like MAC amplified cream lipsticks (a little thick but not unpleasant, pretty well textured and good coverage). I'd read complaints that it is drying but I've been wearing it for a few hours and I've yet to feel uncomfortable or dry and the wear is pretty decent. The color doesn't feel like it's slip-sliding all over the place, application doesn't seem very streaky and is rather even for the amount of coverage. It wears decently and just as well as my MAC lipstick. The only wear issue I had with these was one I have with all lipstick- it pulls away from the middle of my lip (I don't know if this is just me being a freak or what). Do they cover as well and thick as the swatches show? No.
Example of coverage in one stroke:
The colors:
Obviously the swatches on the site are photoshopped. Most of them are the same pair of lips- of course it is. I truthfully never expect swatches to look like they do on the site. I have been extremely disappointed by swatches from every company I've ever ordered from. Neither swatch is accurate but neither is extremely far off either.
Her description of Cosmopop: Buttery, softened orange. Think creamsicle, yum
My description of Cosmopop: Softened orange. Think easy-mac powdered cheese, yum.
Swatch on lips with actual website swatch for comparison:
You can see how very different her swatch and the true color are. I was hoping this would be more like the swatch and am a little disappointed. But it is a softer orange then I have been able to find so I'm not totally. Nothing really remarkable to say otherwise about it.
Swatches below of closest colors I own: Rimmel Celeb, Lime Crime Cosmopop, MAC M'Orange
Here is a photo of me in all my bad makeup and duck lips glory wearing Cosmopop.
Her description of D' Lilac: Boutique crème de lavender dessert in a tube. For post-modern Marie Antoinettes only! (whatever that means)
My description of D' Lilac: Light lavender cream, pure and simple.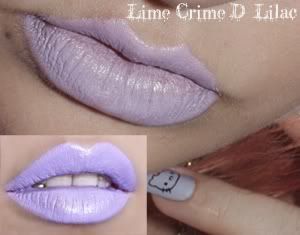 I don't have any other lipsticks to swatch against this but I had previously owned MACs Lavender Whip (which when I was searching for a lavender lipstick would always be recommended) and it was much more pink toned than purple- so close to MAC Snob that I swapped it away.
Here is a full face shot so you can see how odd this looks even in my tastes. Probably doesn't help my sweater matches but whatever:
I thought this would really wash me out or make me look yellow seeing as how pale I am but it didn't. It did not however flatter my not-hollywood-perfect teeth by making them appear ridiculously yellow.
In conclusion TL, DR:
I'm surprised to say I am not disappointed. These provide decent coverage, wear well and while they are nothing spectacular they aren't bad and are better than a lot. I wouldn't order from her if I was looking for a common color (which most of them are) but if unique colors are your thing they are pretty decent. I don't really approve of the $16 price tag and I think if she docked them a couple bucks people would be more likely to order. Will I order again? Possibly. Do I still dislike Xenia? Yeah, I do.
If I didn't answer anything you were curious feel free to ask. I can't say I'm very good at reviews :P
Labels:
lime crime
,
makeup
,
reviews
|
9 comments