Saturday, April 16, 2011
11:39 AM |
Posted by Dainty Darling Digits |
|
Edit Post
I recently had the chance to review some nailpolishes from Obsessive Compulsive Cosmetics. I have heard a literal ton of reviews on their Lip Tars but barely anything about their polishes. Today I have half of the shades I tried. I was saving the best for last! To see the first part, please click here. I'm going to just jump into the awesomeness of these!
RX- described as "
A SHEER WASH OF FLUORESCENT BLUE (SHEER)
". Well, I'm not sure I would call this sheer (despite what my camera says, in most lighting this had no VNL, my camera is just like that). This is 3 coats, so I suppose you could do a single coat and where this sheer. I like it this way, it's almost got a plastic finish to it. I like that this is pretty darn fluorescent and isn't super sheer, uneven and doesn't dry matte- things that I always seem to find with brights. This is what I wanted
Color Club's Chelsea Girl
to be.
Echo- described as "
DARKEST TEAL-TONED BLUE (OPAQUE, SATIN)
". When I pulled this polish out I had to just gaze at how gorgeous this peacock teal polish is. This color is dark but unlike some polishes, still holds a strong punch of color. Excuse my application, I don't know what it is about darker polishes that make my hands go crazy and suck at polish application! This is 2 coats, fabulous creamy consistency on application. This is also the polish my mother wore and said she couldn't pick off (with no top or base coats). Maybe my bad application was due to my excitement to slap on the next polish...
Tattoo- described as "
FADED GREENISH BLACK TATTOO-TONE (OPAQUE, SATIN)
". Luckily none of my tattoos have faded to this point yet, but I love the inspiration! The closest I have in my collection to this is Orly Enchanted Forest, but it doesn't compare at all. Like with Echo, this color is dark but you can clearly tell it isn't straight black. This also had the same awesome creamy consistency as Echo, and was almost a 1 coater (!!!). As soon as I had this on I knew what I had to do...
I absolutely freaking LOVE this! It reminds me of a blackboard (but, you know, a green blackboard). I wore it like this for 4 days before I ended up with...
I ended up adding a coat of OPI Glow Up Already! on a whim. The best part? This photo is taken on day 6 of wear! Not only did I not use a normal top coat, but both matte and glitter chip like crazy on me. 6 days of wear is AMAZING. And if I wasn't ready to change my polish I could easily get a few more days. Seriously, I couldn't pick this off when I tried.
OCC polish is available on
their website
and retail for $8 a bottle.
See anything you like in this post? Do you love Tattoo as much as I do?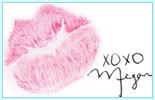 *this post contains products provided for review, this in no way alters my review.