Thursday, December 23, 2010
If you remember my recent Incoco review, these might look familiar. Nail Fraud is around the same idea, but instead of a standard nail color or glitter they have all kinds of fun designs such as these leopard print nails.
Here you can see the "nail bar" (at least that's what I call it). The package comes with 2 identical nail bars. Of course they might not fit exact to your nail but I didn't have much trouble with them fitting. I even have a full set of 10 which are too large for my nails I'm going to try to trim down the edges for a second full mani.
You apply them the same way as the Incoco- you pull the front and back off and it has a sticky backside (sounds like a personal problem- eh?) which you then press carefully onto your nail and then you stretch and buff the excess off the edge of your nail.
Once you have the hang of it these are really simple to apply and they are adorable! You can put a top coat over to help protect them if you'd like- I did. The wear on these was great! I wore them for 5 days without any chipping or peeling before I went through nail-polish-withdrawal and took them off. I especially like products like these for use through the busy holidays- one less thing to worry about :)
Have you tried Nail Fraud?
You can find these at nailfraud.com and they retail for $12 a set.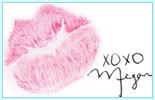 *Products in this post were provided to me for review, this does not affect or influence my opinion which is solely mine.